Talk Outline
The W3C Working Group on Provenance
An example of Provenance
The PROV Data Model
PROV-N, PROV-O, PROV-Constraints
Working Group Charter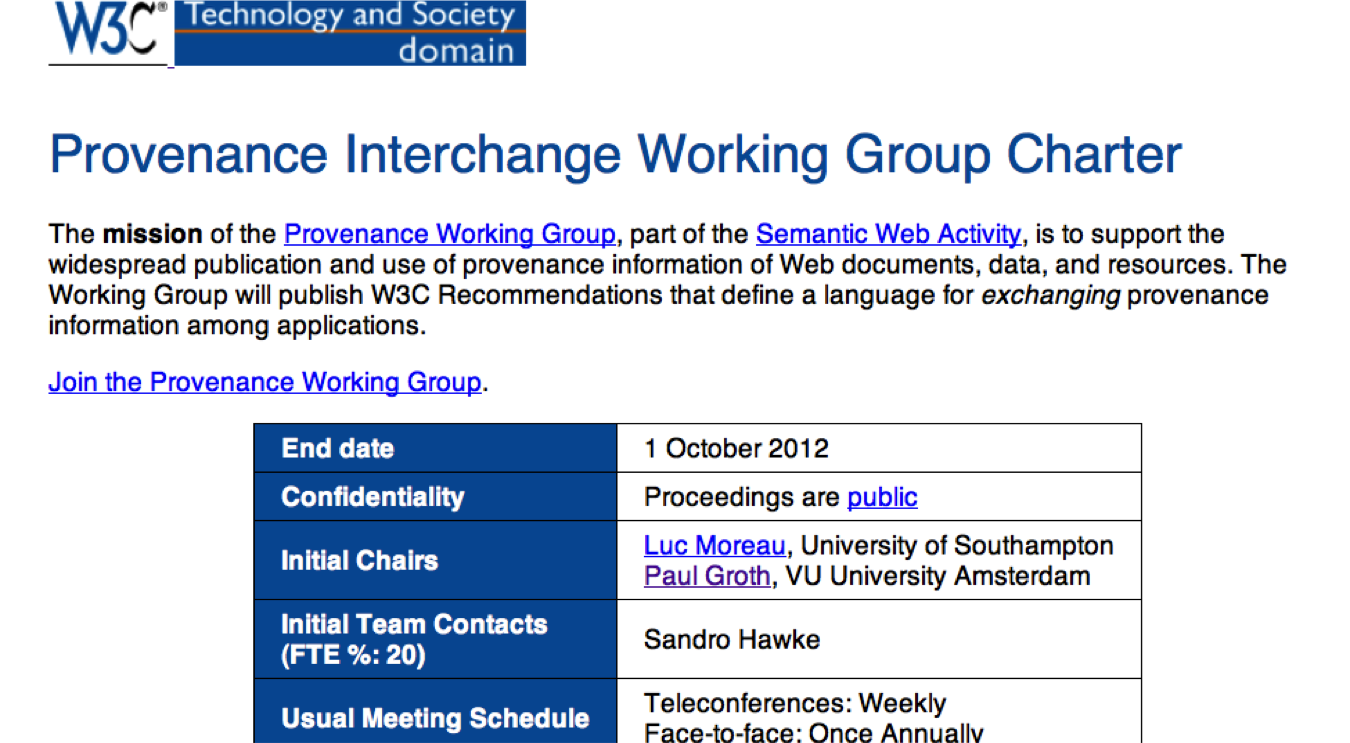 http://lists.w3.org/Archives/Public/public-prov-wg/
Participants
DERI Galway
European Broadcasting Union
FORTH
Financial Services Technology Consortium
DFKI
IBBT
IBM
Library of Congress
NASA
National Cancer Institute
Open Geospatial Consortium
OpenLink Software
Oracle

Pacific Northwest National Laboratory
Rensselaer Polytechnic Institute
Revelytix, Inc
Newcastle University
The National Archives
TopQuadrant
Universidad Politecnica de Madrid
University of Edinburgh
University of Manchester
University of Oxford
University of Southampton
VU University Amsterdam
Wright State University
A Definition of Provenance
Interchange
The idea that a single way of representing and collecting provenance could be adopted internally by all systems does not seem to be realistic today.
Instead, a pragmatic approach is to consider a core data model for provenance that allows domain and application specific representations of provenance to be translated into such a data model and exchanged between systems.
Heterogeneous systems can then export their provenance into such a core data model, and applications that need to make sense of provenance in heterogeneous systems can then import it, process it, and reason over it.
Thus, the vision is that different provenance-aware systems natively adopt their own model for representing their provenance, but a core provenance data model can be readily adopted as a provenance interchange model across such systems.
Layered Model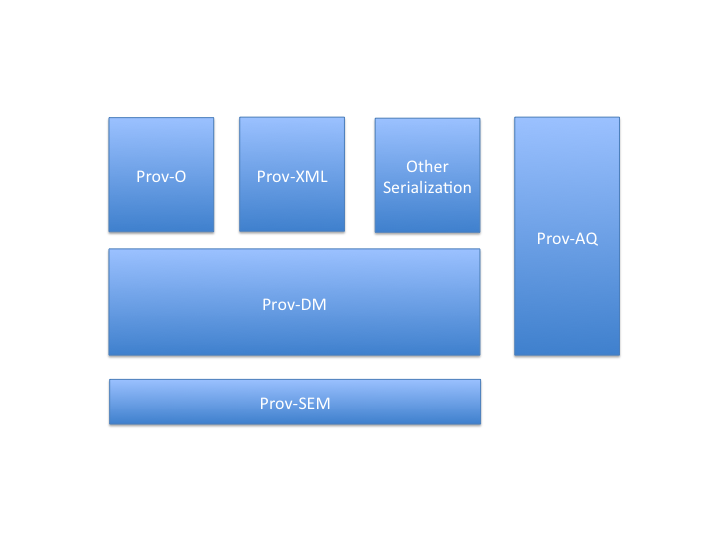 Layered Model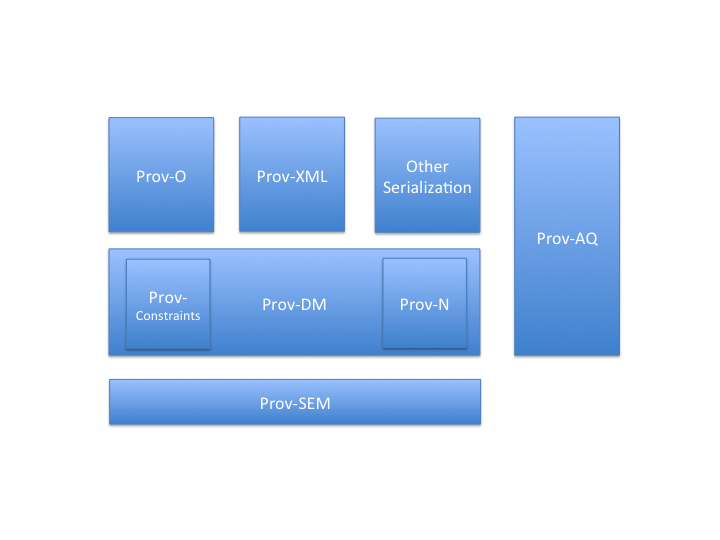 Example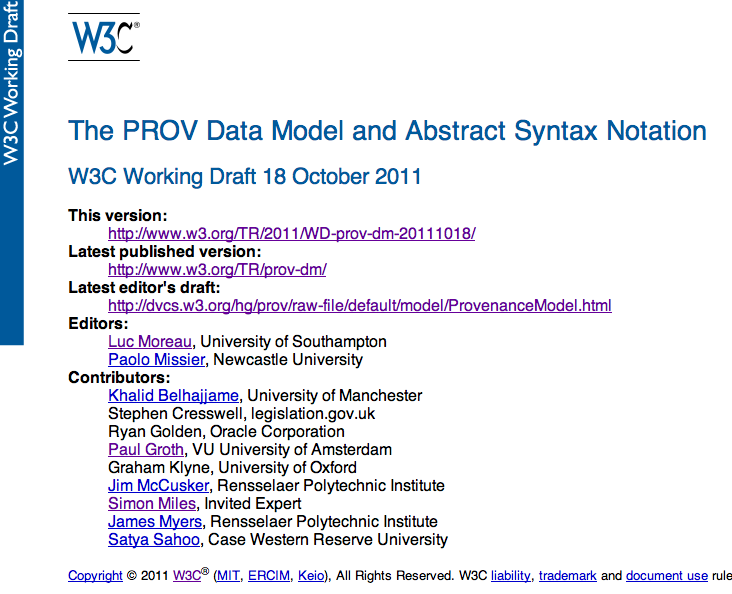 Example
Example (reports)
entity(tr:WD-prov-dm-20111018, [ prov:type='process:RecsWD' ])
entity(tr:WD-prov-dm-20111215, [ prov:type='process:RecsWD' ])
Example (activities)
activity(ex:pub1,[prov:type="publish"])
activity(ex:pub2,[prov:type="publish"])
Example (agent)
agent(w3:Consortium, [ prov:type='prov:Organization' ])
Example (plan)
entity(process:rec-advance, [ prov:type='prov:Plan' ])
Example (requests)
entity(0004, [ prov:type='trans:transreq' ])
entity(0141, [ prov:type='trans:pubreq' ])
entity(0111, [ prov:type='trans:pubreq' ])
Example (usage)
used(ex:pub1,ar1:0004)
used(ex:pub1,ar2:0141)
used(ex:pub2,ar3:0111)
Example (generation)
wasGeneratedBy(tr:WD-prov-dm-20111018, ex:pub1)
wasGeneratedBy(tr:WD-prov-dm-20111215, ex:pub2)
Example (derivation)
wasDerivedFrom(tr:WD-prov-dm-20111215,tr:WD-prov-dm-20111018, [ prov:type='prov:WasRevisionOf' ] )
Example (association)
wasAssociatedWith(ex:pub2, w3:Consortium, pr:rec-advance)
PROV Data Model Components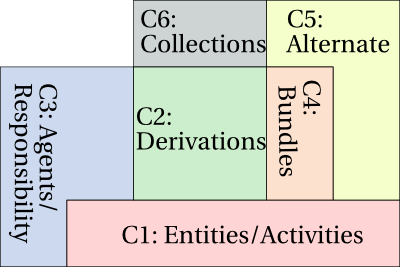 PROV Data Model Core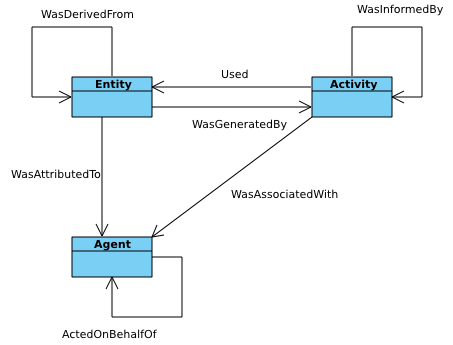 Relations at a Glance
PROV-DM Types and Relations
Component 1: Entities and Activities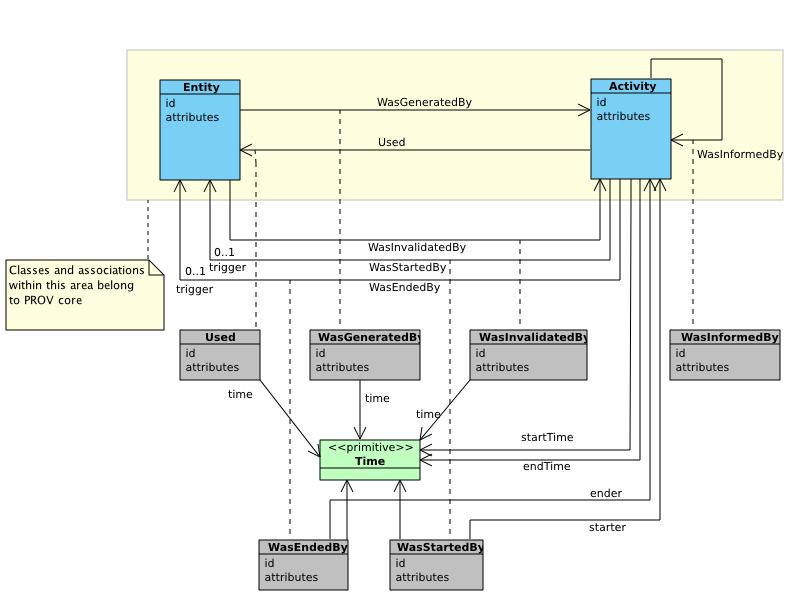 Component 2: Derivations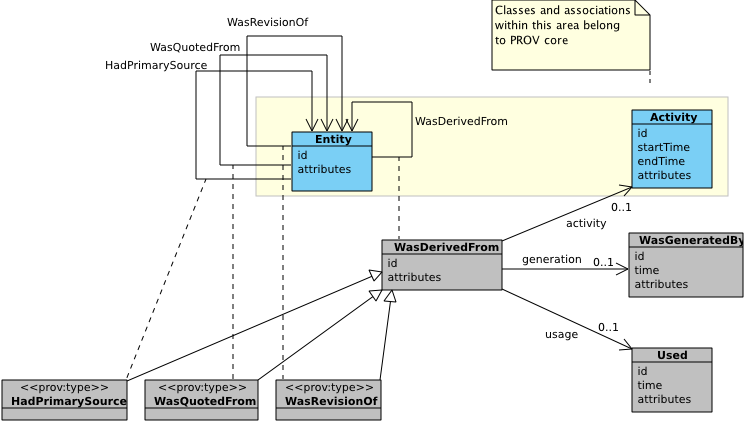 Component 3: Agents and Responsibility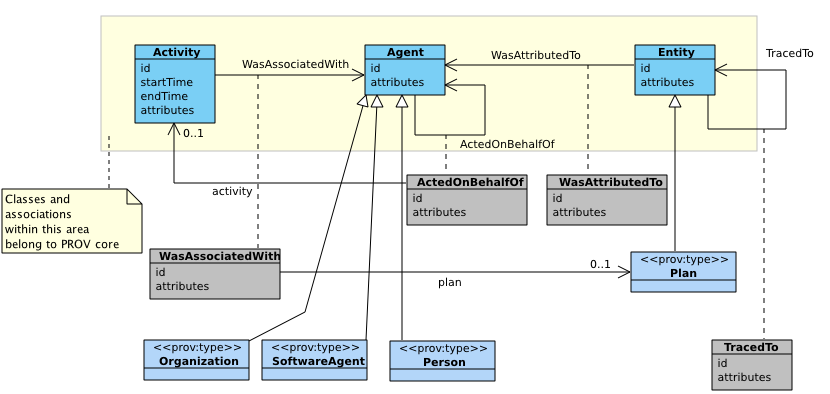 Component 4: Bundles
Component 5: Alternates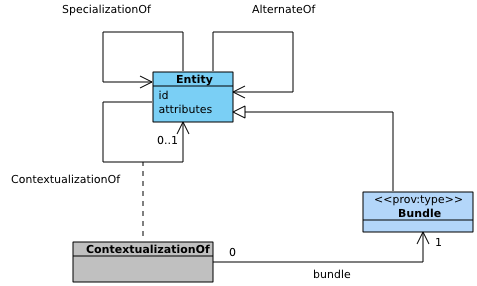 Contextualization Example
Component 6: Collections
Component 6: Collections Example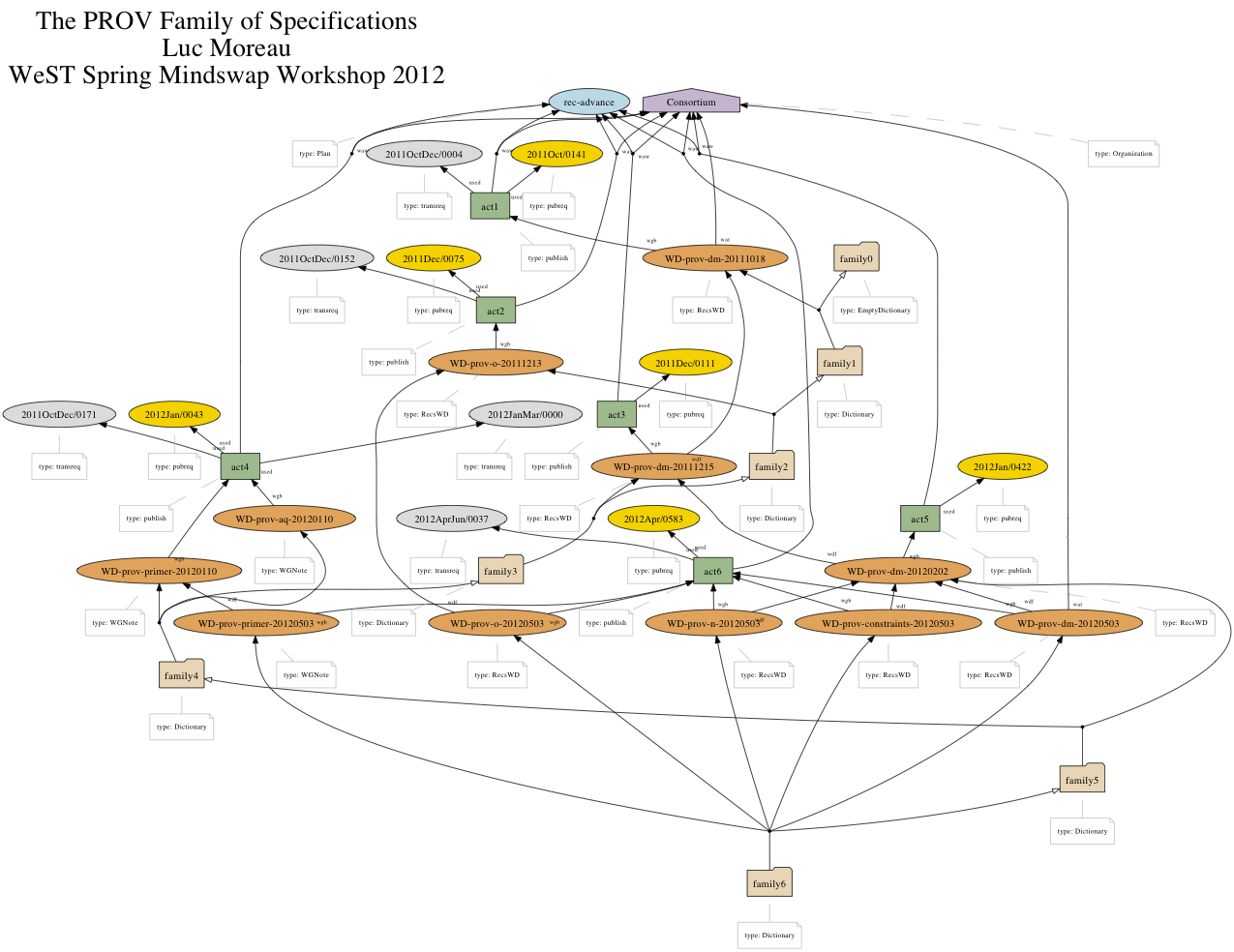 The PROV Family: The PROV Notation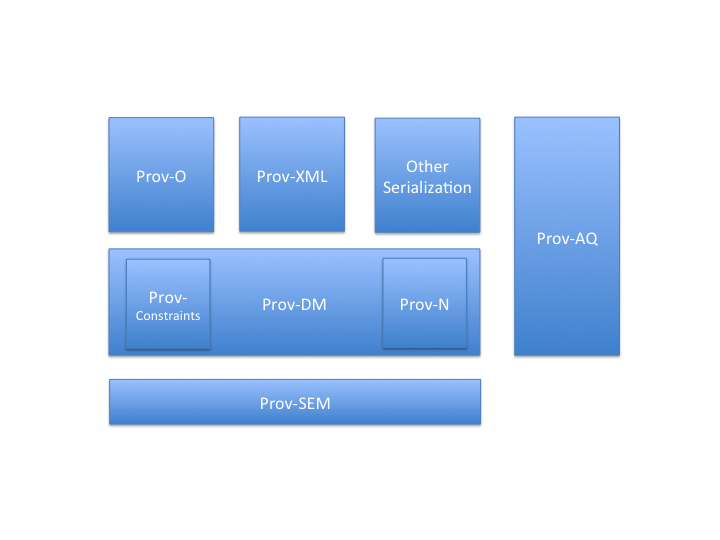 PROV-N: The PROV Notation
Example in PROV-N


entity(tr:WD-prov-dm-20111018, [ prov:type='pr:RecsWD' ])
entity(tr:WD-prov-dm-20111215, [ prov:type='pr:RecsWD' ])
entity(pr:rec-advance,         [ prov:type='prov:Plan' ])


entity(ar1:0004, [ prov:type="http://www.w3.org/2005/08/01-transitions.html#transreq" %% xsd:anyURI ])
entity(ar2:0141, [ prov:type="http://www.w3.org/2005/08/01-transitions.html#pubreq" %% xsd:anyURI ])
entity(ar3:0111, [ prov:type="http://www.w3.org/2005/08/01-transitions.html#pubreq" %% xsd:anyURI ])


wasDerivedFrom(tr:WD-prov-dm-20111215,tr:WD-prov-dm-20111018)


activity(ex:pub1,,,[prov:type="publish"])
activity(ex:pub2,,,[prov:type="publish"])


wasGeneratedBy(tr:WD-prov-dm-20111018, ex:pub1)
wasGeneratedBy(tr:WD-prov-dm-20111215, ex:pub2)

used(ex:pub1,ar1:0004)
used(ex:pub1,ar2:0141)
used(ex:pub2,ar3:0111)

agent(w3:Consortium, [ prov:type="Organization" ])

wasAssociatedWith(ex:pub1, w3:Consortium  @ pr:rec-advance)
wasAssociatedWith(ex:pub2, w3:Consortium  @ pr:rec-advance)

The PROV Family: PROV-O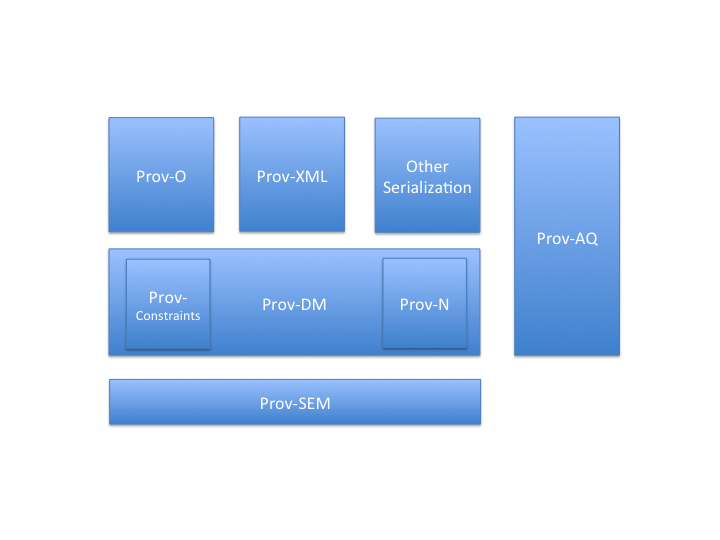 PROV-O: An OWL2 Ontology for PROV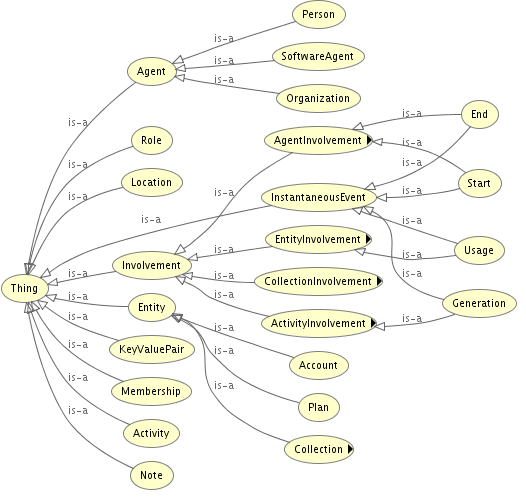 PROV-AQ: Provenance Access and Query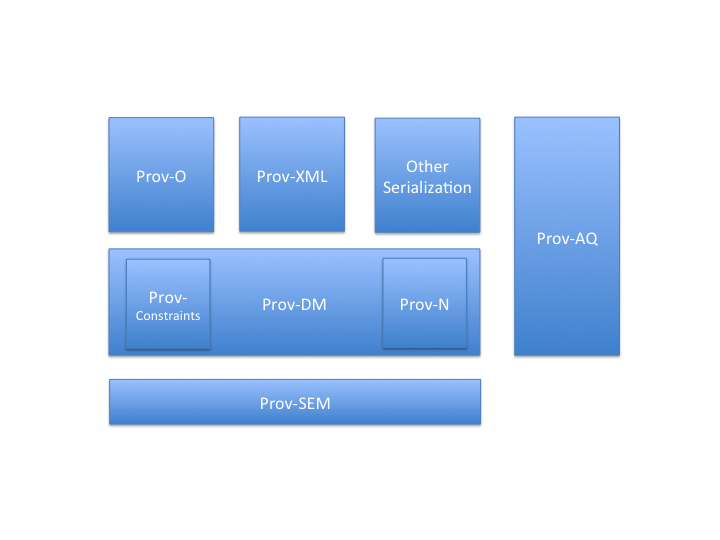 The PROV Family: PROV Constraints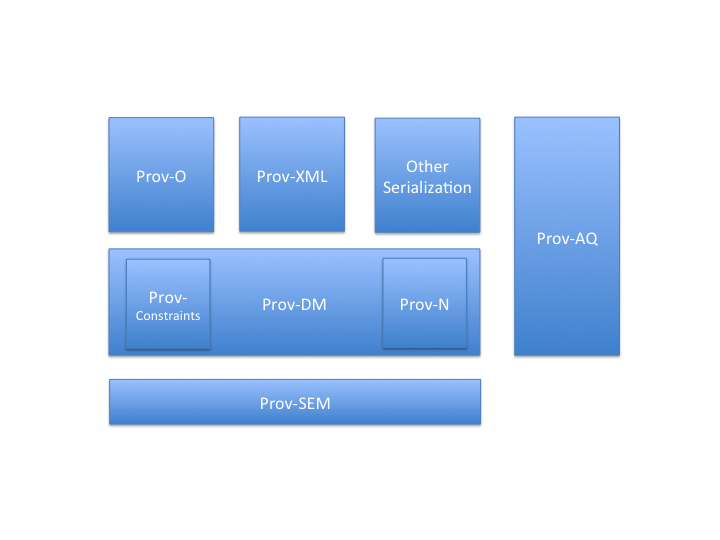 Time
Time is critical in the context of provenance
Time can help corroborate provenance claims
For instance, if an entity is claimed to be obtained by transforming another, then the latter must have existed before the former. If it is not the case, then there is something wrong with such a provenance claim
Minimal time assumptions since provenance can be used in many contexts (standalone system, web, space)
Constraints

&nbsp
&nbsp
Constraints (2)

&nbsp
&nbsp
Conclusion: Specifications
←
→
/
#